2013 Annual Toy Drive Details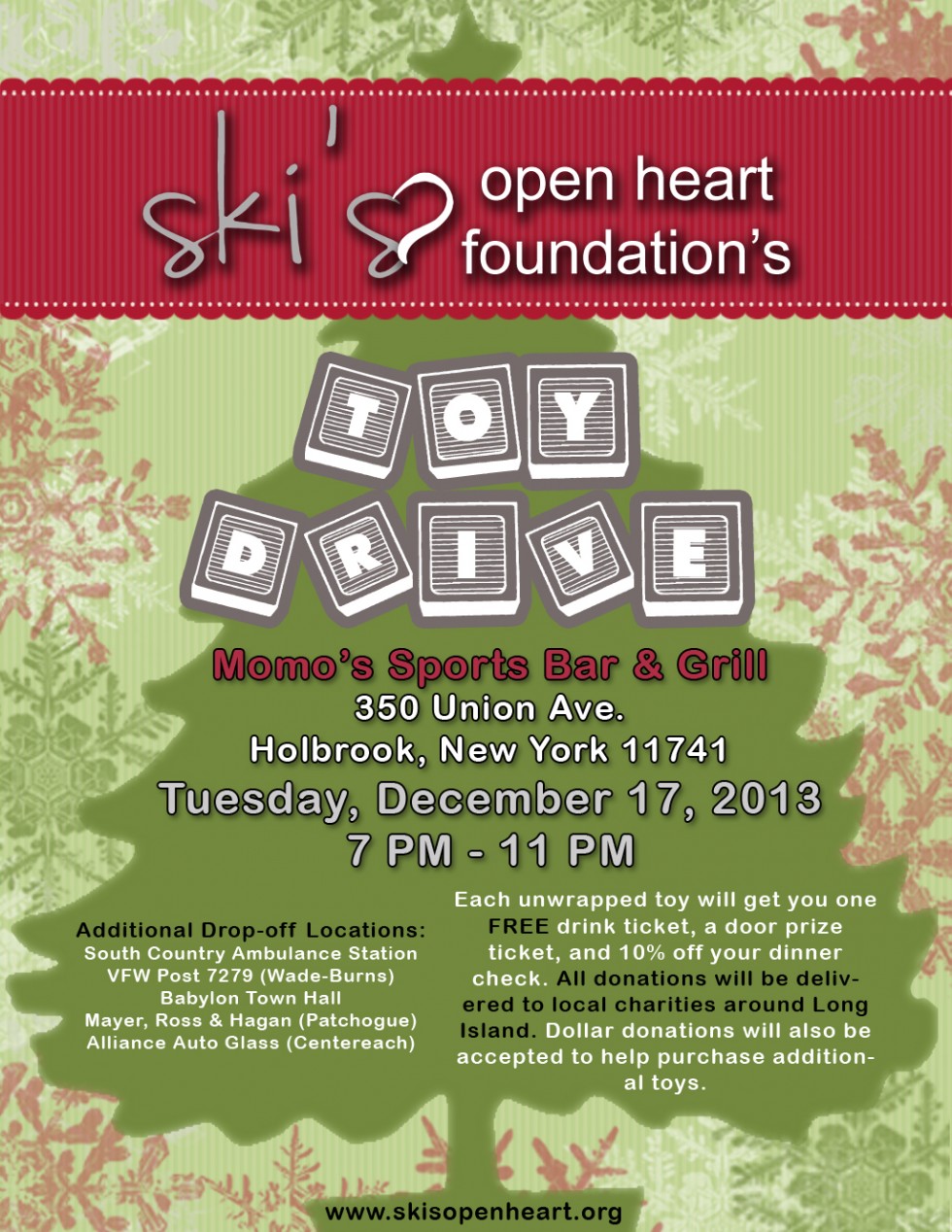 The details for the 2013 Toy Drive have arrived.  On December 17, 2013, we will celebrate the life of the foundation's inspiration, Mark. W. Gajewski, by holding our annual Toy Drive.  This was a task that Mark took upon himself and enjoyed doing for many years.  This year's toy drive will be held at Momo's Bar & Grill in Holbrook from 7 PM – 11 PM.  Each unwrapped toy will get you one FREE drink ticket, a door prize ticket, and 10% off your dinner check.  All donations will be delivered to local charities around Long Island.  We will have a table set up where you can purchase Ski's Open Heart Foundation apparel, 50/50 tickets, and much more.  There will also be special appearances by VS-1, VS-2, and of course, Santa and Mrs. Clause.
There are also drop off spots at the following locations from November 1 to December 15:
South Country Ambulance; VFW Post 7279 (Wade-Burns); Babylon Town Hall; Mayer, Ross & Hagan (Patchogue); and Alliance Auto Glass (Centereach). We have added two additional drop off locations.  Boxes will be at the sites this weekend.  They include: Sunset Beach Tanning located in the Stop and Shop Shopping Center in Medford, Blue Restaurant & Lounge located in Blue Point and The Barber Shop located at 426 South Country Road Brookhaven.  Please help us reach our goal of 8000 toys this year.
 When purchasing toys, please don't forget about the teenagers.  We will be accepting toys for children from ages 2-18.  For teenager children gift cards are also welcomed.  If you would like to make a donation so that we can purchase additional toys you can do so at http://skisopenheart.com/donations-and-sponsors/make-a-donation/ or mail a check to PO Box 484 Bellport, NY 11713. If you are interesting in volunteering to help deliver and pack the toys please contact us.